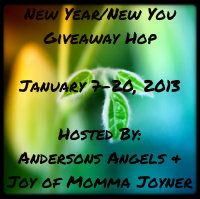 Welcome to the New Year/New You Event hosted by
Andersons Angels
and
Joy of Momma Joyner
. This Event features a little bit of everything to help you keep those New Goals you set! Each blog has gathered up a unique Prize Package of $25 or more so be sure to visit each blog from the linky below and enter for your chance to win some really amazing prizes! This event will end on January 20th at 11:59pm EST.
I know that I've about my upstairs bonus room madness that has turned into what looks like an extreme addition of hoarders….no joke, it's crazy bad.
My husband is a collector of many things. Comics, DVDs, anything related to music, a variety of movie memorabilia, and just about anything that looks like it might be a collectable….even those things that aren't and never will be. He won't throw away anything that he thinks he might be able to use later; outdated software, bills, receipts, clothes, old school books…you get the idea. He's got a lot of (for lack of a better word) junk.
Now, I'm not innocent in the hoarder's stash. I'm very sentimental and hang onto baby blankets, drawings, books, poems, greeting cards, letters, and a lot of things that belonged to my mother and a few of my grandmother's belongings. I also have large collection of my school texts and a growing psychology library. I also used to be a staff trainer and kept my stockpile but my biggest downfall is pictures. I've got them on CDs, negatives, hard copy prints, and in frames….I just can't bear the thought of parting with them.
Several weeks ago, I made myself a promise to end the madness. I'm pretty overwhelmed by all that has to be done but have a plan and have been working my tail off sorting, sifting, and organizing. I'm not exaggerating when I say that I've not made much of a dent. But again, I do have a plan and a very clear idea of how I am going to manage it all. Well….all except for my pictures.
Ending the madness not only entails a major renovation project that I will tell you about just as soon as I fill my husband in on but it also involves getting the rest of my house in check. Downstairs it's not too bad but it can use a little help.
Since my lower back and neck fusion I've sorta left it in a state of undone but with the upstairs project looming I haven't been gung-ho to straighten and freshen the main living areas of my home….but 2013 is my year!
I don't believe in resolutions, I don't need reminders of my failures but I do love the clean slate that comes with a New Year. Empty calendar pages give me a sense of new beginnings and new chances to get small pieces of my life….well, right.
While clicking through
Plow & Hearth
for Christmas presents I found myself a new-year- new -me kinda item to kick start my get-it-together quest.
My junky corner before P&H
I didn't do an overhaul but the one simple change I did make to a junky little corner in the living room, made the space feel like an entirely new room.
I actually found several items that will make small changes with big effect but for this task, I settled on this very cute and very on sale
wood swivel photo table
.
Normally I have an aversion to mail ordered furniture because it typically means I have to assemble it. To be honest, when it arrived it sat in the box right smack in front of my main entry for days. I just couldn't bring myself to put it together.

When I forced myself to put it together, I couldn't believe I had made such a big deal out of it. It went together in about 20 minutes with absolutely no hassles. The pre-assembled pieces, clearly marked parts, and pre-drilled holes made it the easiest piece of furniture that I have ever assembled!
The specs:
Side table with swivel design with photo slots
Holds eight 5" x 7" photos
A handsome end table with a decorative, personal touch
Durable wood composite with a handsome finish
Size
Holds eight 5" x 7" photos
22" sq. x 22"H
The uniqueness of it makes it a talking point and the swivel aspect allows me to move it around and position it how I need.
I've put it to use as an end table that displays a few of my favorite pictures. Its well constructed durable wood composite has a rich gleaning finish that creates a whole new look. It's so much prettier than my pictures, they do it no justice….I like it so much that I'm even managing to keep it clean and my frogs (Fred & Ethel live in the tank on top) have since gotten a new tank and have been relocated to a place that is NOT in my living room :0)
With my love of all thing Plow & Hearth (just ask little girl's bedroom) and all my projects in the works, I know I'll head back to
Plow & Hearth
again and again…..
I actually have another little something that I plan on ordering when my secret reveal comes to life upstairs.
Buy it (it's still on sale, sign up to enter their $500 giveaway while you're there)
Or
Win it!
The make your house a home peeps of Plow and Hearth have generously offered one Lucky Lucy a wood swivel photo table of their own!
If the Rafflecopter entry form is not displaying click the "Rafflecopter giveaway" link
a Rafflecopter giveaway
Please read my disclosure
Tweet
Pin It